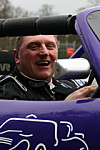 58 - Darren Smith
Class: A
Team: RetroWheelsRacing
Darren will be racing his Class A Tuscan in 2018
Although he has raced Tuscan's in other Series over the past 10 years, Darren concentrates mainly on the DTEC Championship as it is a great opportunity to have some good races in the company of like minded people, and race his cars on slick tyres as in the days of the Factory Tuscan Challenge.
He started with track days in a Chimaera 500 and a succession of cheap hot hatches (mainly Peugeot 309 Gtis) in 2001. He bought his first Challenge Tuscan in 2005.
That car is TVR Purple Pearl and runs in totally original Tuscan Challenge spec,the fuel injected 4.5 ltr TVR AJP V8 race engine is mated to a T5 gearbox and produces around 425 bhp for its 950 kg.
It was a TVR Works car from new, build No RA9712 in 1998 for Bobby Verdon Roe.
1999 TVR Tuscan Challenge Championship winning car driven by Ian McKellar.
2000-2003 TVR Tuscan Challenge driven by Ben Samuelson.
2004 TVR Tuscan Challenge driven by Ben Samuelson and other factory guest drivers.
2005 TVR Tuscan Challenge ceased, and car sold by factory.
2006-onward driven by Darren in BARC NW Sports/Saloons, Dunlop TVR Challenge and AMOC Super GT races.
It still races as No58 and in the original TVR Works colours and is run by Darren's RetroWheels Racing team.
Darren has become a serial collector of TVR Tuscan Racers:
Supporters of the original Challenge may remember his red car as the bright pink Tuscan originally raced by Rod Gretton , it then became the Ferrari red team car campagned by Nigel Mansell TVR,and finally Westover Sports Cars. This Tuscan had no engine when the team aquired it in 2009 but had ran Rover and latterly AJP engines.
It is now fitted with a TVR Griffith /Chimaera 500 wet sump Rover V8, other than some induction mods the engine is road spec as the car has also raced in a Classic Series as well as a Sports and Saloon Championship.
The high capacity fuel tank and mechanical spec allow the car to race in a variety of Championships but RetroWheelsRacing run this and the purple car in DTEC as Darren believes this to be the true home of TVR racing.
Although it's got quite a lot less power than the AJP in the works car, the combination of some good old low down torque from the Rover make it
lovely to drive and really predictable… When it all goes sideways Darren says it feels like a very big engined Mk2 Escort .
Darren has also raced another AJP Tuscan in DTEC, a one off customer order car built by the factory as a two seater. This car was aquired in 2012 and RetroWheels Racing then fitted it with the last known new AJP race engine. The car gets used sparingly on summer track days.
In 2014 the Chimaera road car was sold and after some fun with a couple of Speed Six Tuscan road car's in 2015, Darren realised that his passion lay with the racing TVR's and so a fourth Challenge car joined the stable in 2016 – again an AJP 4.5 car that saw service in the original Challenge, but for the past few years had been campaigned and immaculately prepared by Gary Lancashire and his team.
Outside of his racing Darren finds time to run his business to pay for the racing, Training, Classic cars, Track Days and TVR events.
2018