3 - Hugh Marshall
Class: A
Team: Marshall Motorsport
Aged 64 he is a Chartered Surveyor from London who started racing in 1979.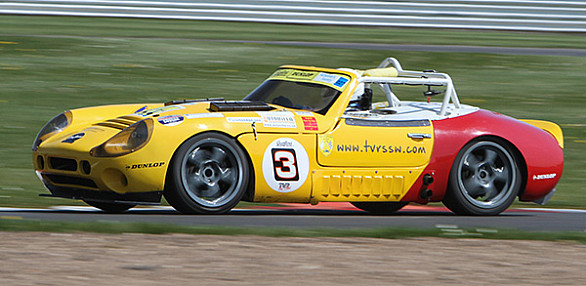 Hugh Marshall started racing in 1979 in the Renault 5TS Championship sponsored by Camus Brandy continuing into a part season in 1980. The best result in year one was 3rd at Mallory Park but plenty of publicity followed a couple of large accidents from which Hugh and his team mate Rob Upton earned the tag of Camukaze Pilots. . Hugh has been a racing instructor at Brands Hatch and Silverstone and has also worked for Fusion/Driving Ambition at Millbrook. For 4 years Hugh worked as a professional driver for TL Racing on behalf of Vauxhall as well as acting as a presenter for Vauxhall. Since the late 1980's Hugh has run his own motor sport company which was the main contractor in the Brands Hatch backed Multisports Championship running such people as Chris Needell, Nigel Greensall and nearly winning the championship with Jeremy Hoyland. Hugh team managed a Porsche GT2 in the 2011 Britcar 24 Hours and was a team member in a further two 24 Hour races as well being part of the CDL team at the Spa 1000km in 2003 running a TVR 400R. Hugh competed in 4 Willhire 24 Hour races in 1985 through 1989 in Ford Capri and VW Golf cars with a best finish of 4th in class
During 1980 to 1983 Hugh competed in sprints and a few races in a mix of sports and saloon cars. In 1984, a few outings in an ex Gerry Marshall Dolomite Sprint and Capri led to a return to serious competitive racing in 1985 in the Uniroyal Production Saloon Car Championship and Monroe Production Saloon Car championship driving the ex Gerry Marshall 2.8 Injection Capri amongst Gerry Marshall, Tony Lanfranchi, John Cleland, Graham Scarborough, Colin Blower and a host of others. 3rd in class in the Monroe championship including a number of podiums was the result.
In 1986 Hugh drove Peter Bryant?s Mark 1 Lotus Cortina in the BRSCC Classic Saloon Car Championship scoring a number of podiums including 3rd overall in an FIA Historic event at Brands Hatch. Whilst lying second in the BRSCC championship Hugh was replaced in the car by Tony Lanfranchi and did not complete the season. Hugh purchased a Ford Escort Mk 2 for Class B Thundersaloons 1987.
From 1987 to 1989 Hugh shared his Ford Pinto/BDG powered Ford Escort with Tony Lanfranchi when Tony was not on duty driving the Vauxhall Senator and Carlton for General Motors. Hugh's other co-drivers included Barrie Williams, Rod Birley, Ian Khan. The best championship finish was second in Class B. In 1990 Hugh joined Nick Oatway in the Class A Thundersaloon, The "Stars and Stripes" Opel Manta Pontiac scoring 2 outright wins and 2 further podiums. Hugh and Nick led the Thundersaloon Championship until the last race of 1990 when mechanical failure lost them the championship on the very last lap of the very last race whilst leading John Cleland in the Vauxhall Carlton.
From 1991 to 1992 Hugh continued in Thundersaloons driving large V8 powered cars. A move to National Saloons in 1993 in the ex David Bartrum/David Pinckney Ford Sapphire Cosworth saw him compete regularly in National Saloons until 1996. In 1997 National Saloons became Saloon 2000 and the Cosworth was outlawed. A few races in a Vauxhall Cavalier showed the car to be uncompetitive against the semi works Nissans and Hondas and led to the demise of that project. Brief outings in The Proton Cup, Caterham Roadsports and two outings in a TVR Tuscan in 1998 led to a move to the Marcos Mantis championship in 1999 as the budget was not there to continue in TVRs. Hugh competed in The 1999 Privilege British GT Support race to the British Grand Prix in the Marcos finishing 5th in Class.
The outings with Bob Cooper's WLA TVR Tuscan team in 1998 led to a return to TVR Tuscans for two races late in 2000 with CDL. Backed by Dag Palmer's Vital Financial Services, Hugh completed the first half of the TVR Tuscan series in 2001 with CDL in Peter Wheeler's old chassis and in 2002 he competed in two races at Spa.
In late 2002 Hugh bought his own Tuscan which made its debut on the SBS Stand at Autosport International at the NEC. He campaigned the car for most of the 2003 season with CDL. When CDL folded in early 2004 Hugh placed the car with Nick Mason Motorsport and ran alongside David Mason for the last season of the factory backed championship continuing with NM Motorsport into 2005. From 2005 to date Hugh's Marshall Motorsport outfit has run the car with the help of Dave Huckle and Peter Mason at M & H Racing culminating in winning the DETC championship in 2011. Progressing into the top 10 in the factory Challenge Hugh has scored a multitude of wins and podiums in the new DETC and has approaching 180 starts in TVR Tuscans under his belt resulting in many outright and class wins and numerous other podiums.
In 2015 Hugh teamed up with Colin and Tina Apps at TVRSSW to run Car 3 at the circuits. Hugh finished second overall in the championship and won Class A.
2016 is Hugh Marshall's 37th year in Motor Sport. The car has wintered with TVRSSW in Wellington Somerset where Colin has been working his magic on it. Pete Mason is still involved on the engine side and it is hoped that we can compete in all rounds of the championship this year.
Hugh retired at the end of the 2016 season.
2018