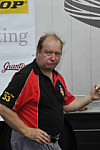 33 - Tim Broughton
Class: B
Team: OldF Arty Racing
He isaffectionately known as Turbo Tim for obvious reasons, he is a Ferry Captain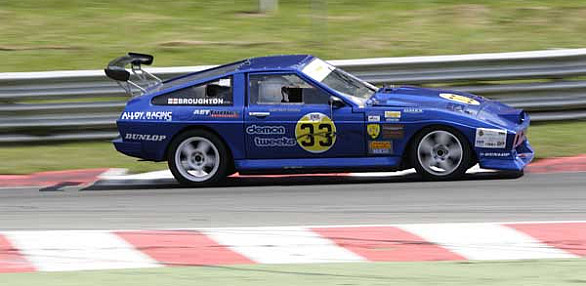 Anyone who has ever tried to interview Tim will agree he is very funny and an absolute nightmare all at the same time. For example he was asked what his progression in racing was, his answer Pedal car, three wheeler tricycle, Tour de France, Grasstrack, Rebels and Bathurst but (not necessarily in that order. What got you into TVR racing? "Steve Hall made me do it" So with more of the same:-
Your favourite race circuit and why? A: Cadwell, as it has been very easy over the last couple of years in my explosive turbo period, as I have either blown up, set on fire or just lost power before the end of the main straight.

Other interests outside of TVR racing? A:Too old for any of that now.
Who are your key sponsors and what is the connection with them? A:First direct. It is where my salary is banked.
What changes have you made since last season? A: 4 turbos, each one lasting less time than the previous one. Record stands at 2 minutes.
When asked about the cars history we got: It was driven by Steve hall, he sells me his cast offs. Originally owned by Bob Marley, as was my tow truck?
The car is a Tasmin weighing around 1175 kg running a fuel injected 2 litre Ford Cosworth Turbo engine mated to a close ratio T5 gearbox. Allowing Tim the last word, What is the approximate BHP? Answer Anywhere between 340 and 240 depending on whether race lasts 1 or 2 laps?
As you can tell Tim has had more than his share of Turbo problems.
He has retired from racing.
2017