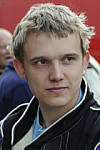 26 - Alex Gore
Class: C
Team: West Norfolk Racing
Aged 18, Alex is an Apprentice Engineer from Norfolk who started racing in 2010
Alex bought the car at the end of 2009 and spent most of 2010 getting ready to follow in dad's footsteps. First job was to pass his driving test then get his ARDS. Being a good Norfolk lad he rates his home track Snetterton as his favourite venue. When not racing or working he can be found Skiing or playing/watching football although presumably not at the same time.
His racing is supported by his racing father Kevan Gore and since the end of 2010 the Tasmin has undergone a complete rebuild and re-paint. The fuel injected Tasmin is running a Ford Cosworth 2.9 V6 24V mated to a Ford Type 9 gearbox and produces around 220 bhp and weighs around 1150 kg.
The car was formerly Pete Reeve's road/sprint car that was converted to a Tasmin racer and has been in the past driven by Pete Reeve and Keith Vaughan-Williams.
Alex has not raced in the series for some time but still has the car.
2018