89 - Andy Race
Class: C
Team: TVRMonster
Andy is a company Director from Somerset that started racing in 2007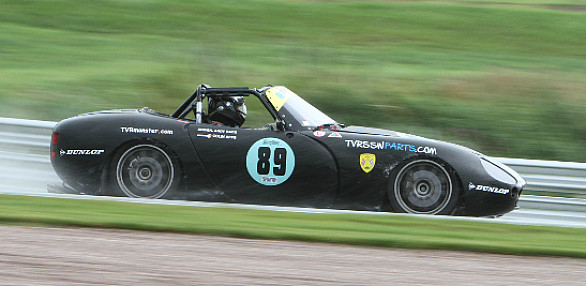 Andy races TVRs for the love of the brand but would rather race in F1, like the rest of the normal world he can't afford F1 so TVRs it is until Mr Di Montezemolo calls.
He started in Trackdays in 1981, they weren't called that then, with Triumphs mostly GT6, Stag and Spitfire but would use anything that was UK and not a MG. He had a small break from 1984-2000 to do the normal grown up stuff and then moved to TVRs.
Andy has a lot of trackday experience as a driver and organiser both here and in Europe and would rate Spa-Francorchamps as the best circuit stating that if you been there you'll know why!
His first races were run in his road legal track day Griffith which was successfully campaigned in class B. The car was sold on to Dan Birch and a Tuscan Racer aquired.
The Tuscan made its first appearance in the last meeting of 2010 and over the winter he has worked on the car such that hopefully it now accelerates and stops properly, two fairly crucial things it wasn't doing.
The car runs four Dellorto 48 carbs and the 4.5 litre TVR Challenge Rover V8 is mated to a TVR Challenge T5 gearbox. It produces around 330 bhp and weighs around 912 kg. It is an original 1989 Tuscan challenge car. It was altered for 2 seats and long running in 1999 (60L fuel cell for 1hr races) and is modified to be road legal and is currently Taxed and Tested. Andy could drive it to and from the track.
Ian Flux and Jamie Campbell-Walters used the car for Press work and Sponsor "thrill days". Jamie used the car at Donington Park in 2001 and posted a time that would have put him on the third row, whilst carrying a large sponsor. The car then needed a new engine.
Having sold the Tuscan Andy took some time out, doing a few guest drives in varoious cars. He is now racing another Griffith 4 litre in class C of the challenge. The Griff has had a few development problems but is starting to produce results.
2018