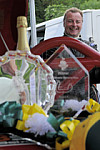 88 - Keith Vaughan Williams
Class: A
Team: Happy Endings Motorsport
A Compliance Officer from Kent who started racing in 2007.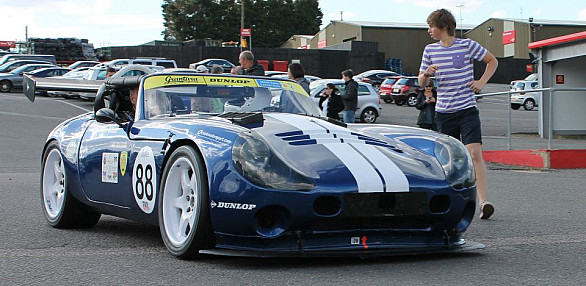 Keith was Compliance Officer (now retired) for one of the UK's leading casino operators who started racing in the DTEC in 2007. He has been a TVR enthusiast and TVR road car owner for over 20 years, having owned various TVR S series cars (V6's and V8's), a Cerbera and more recently a Griffith.
He saw racing as the natural progression from track days which he says he really enjoyed.
In 2007 he bought and shared a Class C TVR Tasmin with his good friend and team mate Tim Davis in the DTEC. He then went on to sole ownership of the same car until 2010 when he bought a Class B TVR Tuscan Challenge race car. He finished that first season in Class B as Class winner outright and runner up of the overall DTEC Championship. Keith rues "nobody remembers the guy who came second though!" He sold the Class B Tuscan to Tim Davis mid-season in 2011.
Keith acquired his current car in 2012 from Marc Hockin who had mothballed it for several years. It was also previously owned by Darren Dowling and before that; Troy Dunlop. Keith campaigned the car successfully for the first half of the 2012 season with two podium finishes:- at Silverstone (3rd) and Rockingham (2nd). Unfortunately his season ended prematurely after that first race at Rockingham with what was first thought to be a camshaft problem. A subsequent strip down revealed that one of the top hat valve shims had disintegrated and the fragments had done major damage to much of the engine. The budget didn't stretch to a full rebuild so that was that for 2012!
In the 2013 season with a full engine rebuild and the removal of the weighty aero package that the car has run with in previous years, Keith hoped to resume where he left off the previous year running competitively in Class A.
Car #88 has a factory spec'd dry-sump 4.5 litre AJP engine coupled to a motorsport modified T5 gearbox with Quaife internals. The car features modified suspension to accommodate the wider than standard 10 inch Compomotive rims that the car runs front and back. Additional modifications include 3-way adjustable Penske dampers and a 70 litre fuel tank positioned over the rear axle (for endurance racing . . . .and added traction allegedly)!
Keith lists his local circuit; Brands Hatch as one of his favourites; he only lives 25 minutes away. He is actively seeking sponsorship although he gets race support from Rob Singleton at Boss Racing in Fawkham Village, only a short drive from the Brands Hatch circuit. Dave Singleton (Rob?s dad!) used his 40 years experience in engine building to undertake the task of stripping the AJP and putting it all back together during the 2011/12 winter months. Dan Taylor at TaylorTVR in Aylesford, Kent has also lent invaluable support having worked with the race teams during the halcyon days of the Tuscan Challenge in the 90's – so he knows the cars inside out too!
2018